Contact Info:
+1 (323) 404 6131
maya0401@me.com

Resume
Work Samples
Instagram
LinkedIn
---
Academic Work:
1. Who says what a tube is.
2. Man Made Nature.
3. More or Less.
4. Thick Facades.



Fabrication:
5. Intro to Robotic.
6. Geothermal Futures Lab.
7. The Hand and the Arm
8. Extra Fab

Professional Work:
9. Centro Civico by El Equipo Mazzanti
10. Museo Catagnino by p-a-t-t-e-r-n-s
11. Pavilion and Chapel by TALLER Architects

Hello, I am William Maya, an Architectural Designer.
I am interested in the conceptualization and fabrication of architectural challenges as well as the relationship between new media and architecture while using technology and fabrication for higher efficiency and production

I graduated from SCI-Arc with a Master of Architecture (M.Arch 2).
---
Thick Facades.
Graduate Thesis Project
Advisor: Peter Testa .
Southern California Institute of Architecture (Sci-Arc)
---
This thesis investigates the role of the façade and its relevance in the architectural project, instead of understanding the façade as a flat element both in its representation and architectural translation.

Looking at what happens when you thicken or fatten what is normally a thin façade to the point when it starts to have a real impact in the interior, gaining status as a volumetric architectural element, moving from surface to mass.

Taking Venice as a site, the project can be read as the development of "active façades" which relate not only to the larger context but also to themselves. In this way, the project breaks with apparent superficiality associated with the idea of façade – moving from compression and flattening of information to layering and de-compression-

Placing these "active facades" onto different locations to address certain attributes while mingling in particular ways in the Venetian public space. They all develop their kind of architectural language,






Each of these architectural interventions has either adapted to or overcome the building. For example, surrounding a building, a neighborhood, and incorporating with them and while creating new profiles on both the buildings and their public space. We get columnatas, courtyards, piazzas, all in different scales, speaking both to the existing architecture and to themselves. You get a deep interior that still feels public, and exteriors that start to feel intimate. As well as public spaces that feel private.

You get this depth Venetian quality of feeling like you are moving through multiple layers of shadow and sun, interior-exterior spaces, you feel enclosed, but then open to the sky, feeling like you are in someone else s backyard as well as in a public space.

These pavilion-like buildings question the temporality of the site and its cultural relevance. Could they be reshuffled to continuously form new kinds of public spaces on every iteration of La Biennale?


"Architecture is both ancient and modern, each work an amalgamation of elements that have been around for over 5,000 years and others that were invented yesterday (...) "
— Rem Koolhaas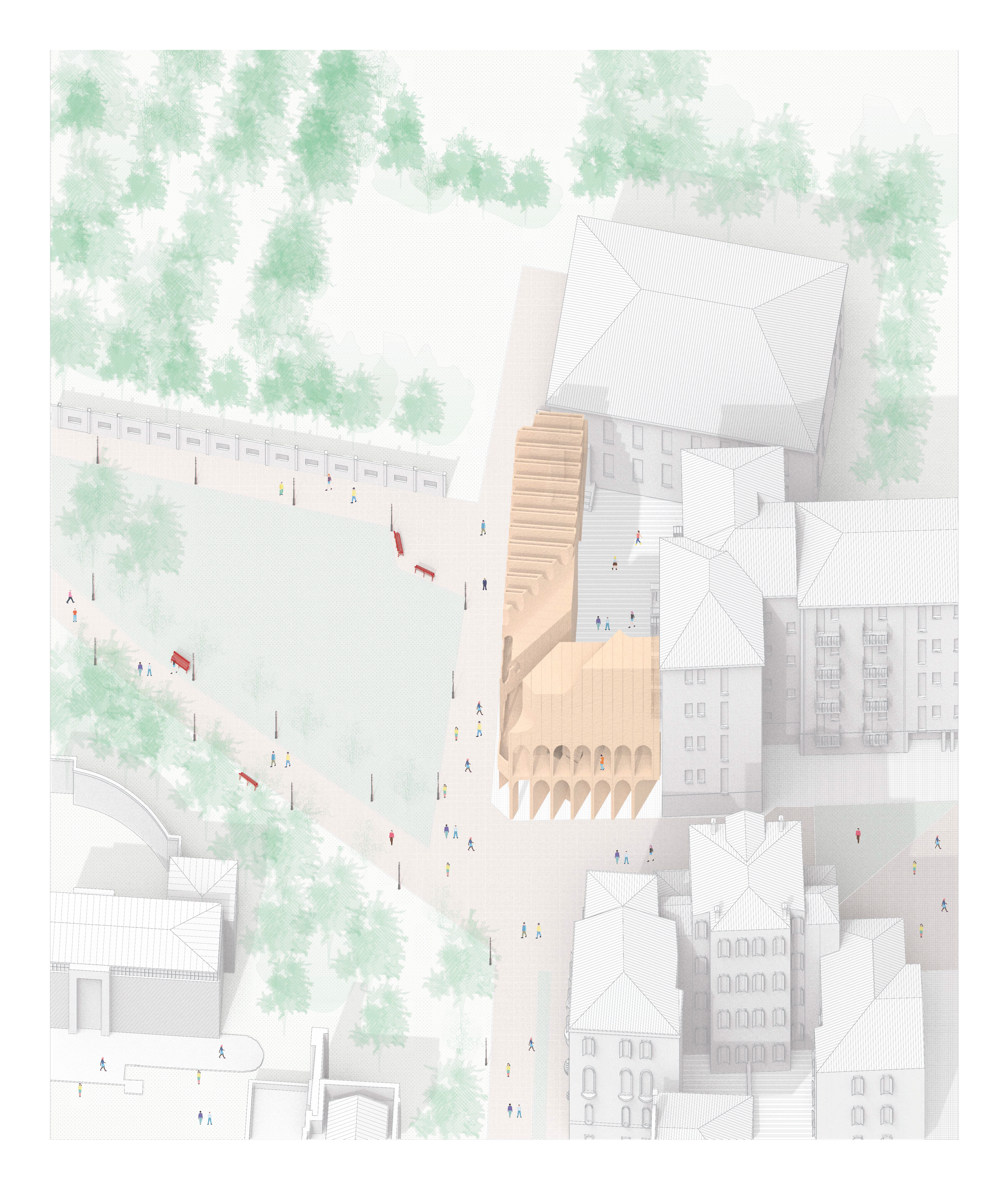 Who says what a pipe is?

Project team: Juan Villarreal, William Maya.
Eric Owen Moss Vertical Studio.
Southern California Institute of Architecture (Sci-Arc)
---
"Silicon Beach is a euphemism for an area that includes portions ofVenice, Santa Monica, Marina del Rey, and West Los Angeles. And thearea is on the way to becoming a local surrogate for Silicon Valley, that sequestered zone south of San Francisco which remains the heart of the world's digital development zone. With cities around the country and around the world clamoring fora share of that once exclusive Silicon Valley concentration of digitalindustry companies and their cohorts, Los Angeles has taken its placein that assembly line to digital affluence.
How these growing companies fit, or could fit, or should fit in an evolving Los Angeles planning conception is little regarded. That'sa mistake. In addition these companies offer employees a workingenvironment often labeled as "the new work place". That merits of thenew work environment, much lauded, little debated, and too quickly accepted as an interior planning 'fact' should be scrutinized."
- Brief description by Eric Owen Moss
Levels of Development: Urban Scale
Levels of Development: Pieces.
Levels of Development: Chunk. Selection Model :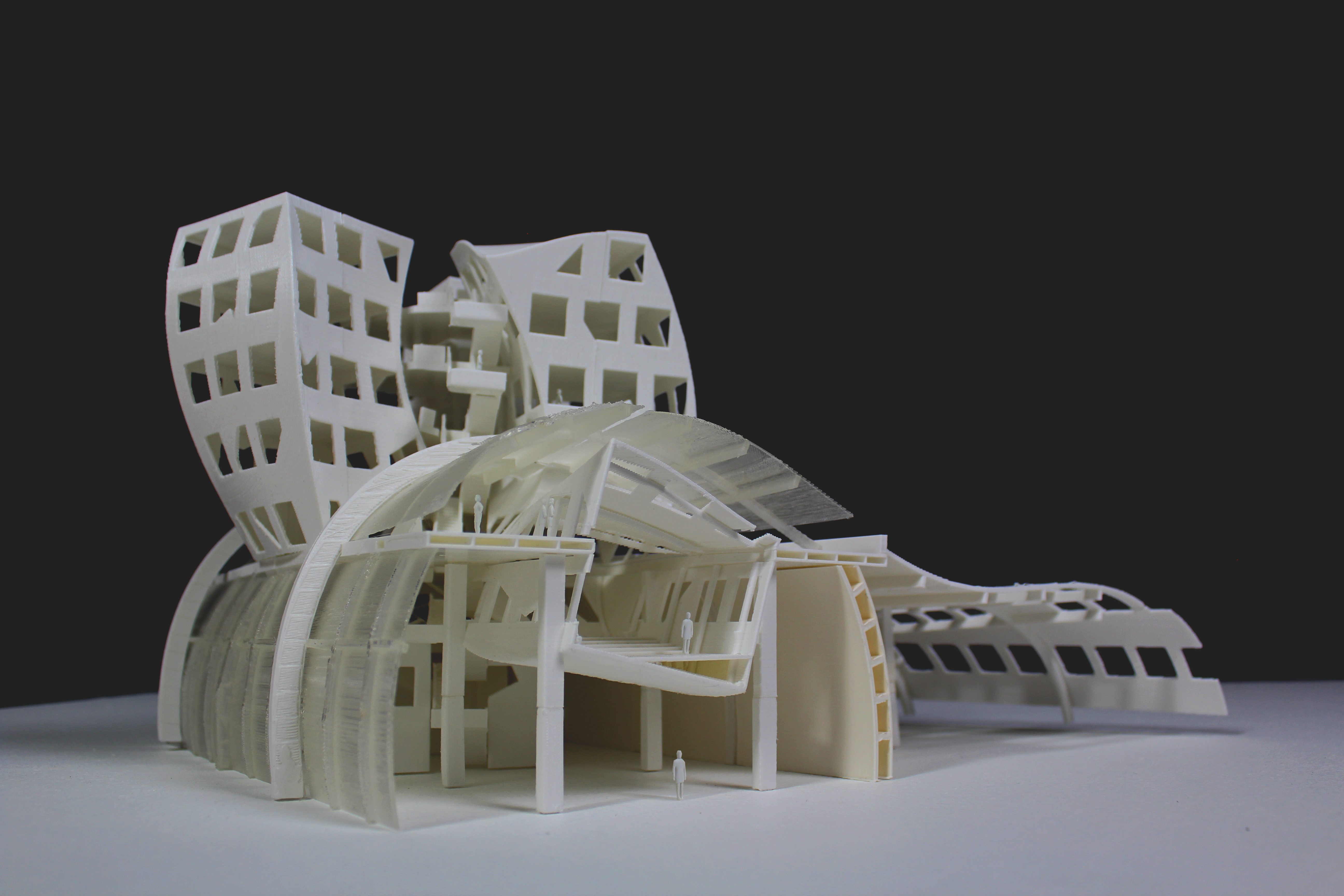 ---
Man Made Nature:
Southern California Flower Market

Project team: Genki Matsukawa, William Maya.
Elena Manferdini studio.
Southern California Institute of Architecture (Sci-Arc)
---
Studio Premise: Topiaries against types.
For the approach to the development of the Southern California Flower Market, we were interested in a reinterpretation of the relationship between man-made and organic nature, more specifically, we approached this relationship from the idea of the topiaries, in which flowers, shrubs or threes take onto well-defined shapes, creating a sense of controlled nature in its formal appearance.
Our architectural proposal embraces formal ambiguity both in terms of our tectonic approach as well its massing strategy. The Simple platonic shapes are positioned in a way that makes them be perceived as dislocated and unstable, yet the linearity of the form and directionality reinforces its stiffness and platonic formality. The use of various reflective, refractive, opaque and shiny materials, like colorations of glass and steel, and iridescent and dichroic glass broadens the ambiguity of the acute geometry deceiving the senses and tricking the user and its reading of the architectural project. This project presents new interpretations and multiple architectural manifestations by embracing optical effects in its composition, which are able to generate different readings through the different views along the architectonic project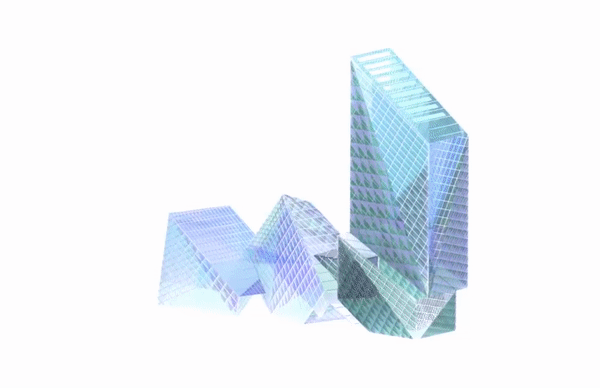 Plans:
Elevation and Section:
---
Model Photos: